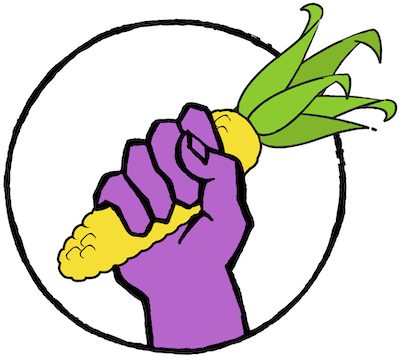 Food Not Bombs, Omaha Nebraska USA
Since ~2000, Food Not Bombs (Omaha Nebraska) has been distributing food free of charge on the corner of 14th and Farnum at 2pm every Sunday. Rain, snow, or shine. We are one of hundreds (thousands?) of groups world-wide, please see FoodNotBombs.net for a map and contact information for groups around the world, and the history and ethos of the global organization.
We're a very small and scrappy band of volunteers. We hope you'll join us. :)
During COVID-19
Beginning in March 2020 the logistics of FNB Omaha changed drastically for everyone's safety. Our number of volunteers has shrunk dramatically to minimize any potential spread of SARS-CoV-2. We still need volunteers though, especially when someone is out of town, so please contact us below!

All volunteers must wear masks and gloves at all times. The compliance of our patrons... varies. We hand out masks every week.

Saturday
Before (and after? ...someday?) COVID-19
For many years, we were using Table Grace Cafe's kitchen to cook and clean, serving a meal on plates. We hope to get back to a kitchen model at some point. Douglas County COVID-19 statistics.
Contact information
Nerd stuff